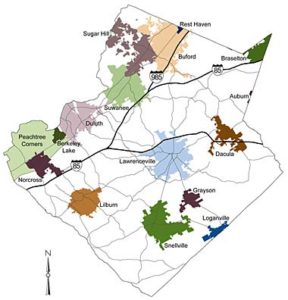 Recycling in Unincorporated Gwinnett
With more than 900,000 residents, Gwinnett County is the second most populated county in the state of Georgia. The majority of citizens live in unincorporated areas of the county, where curbside recycling is available to all homes but currently not to all apartments.* Residential (meaning houses, not apartments) solid waste and recycling service for residents in unincorporated Gwinnett costs $17.91 per month for basic service, with a senior discount available to those who qualify. This basic service includes weekly collection of one 95-gallon cart of solid waste and an unlimited volume of accepted recyclables. Residential basic service fees are billed on your annual property tax bill. The Gwinnett County Solid Waste and Recovered Materials program is mandatory for all residents.
Since the trash and recycling fee is bundled in unincorporated Gwinnett County, there is no reason not to recycle. Gwinnett County uses single-stream recycling, so recyclable materials are all put into the same truck and are sorted at the processing facility. There is no need to separate your recyclables in your curbside recycling bin. If you don't have a recycling container and you would like to get one at no cost, or if you'd like to upgrade your open bin to a covered 65-gallon cart, contact your hauler. You may also use your own containers curbside — just make sure that any additional containers are clearly marked as containing recyclables.
Between the solid waste program's start in July 2010 and 2016, residents of unincorporated Gwinnett recycled more than 28,000 tons of material. That's great! Unfortunately, only approximately 17% of Gwinnett County's residential waste stream is recycled. This marks an improvement for us, since the figure was just nine percent in 2010*, but the national average is much higher, at 34.6%. Together, we can do better!

*Source: Gwinnett Clean & Beautiful and the Gwinnett County Solid Waste and Recovered Materials Division (December 2016)

Recycling in Gwinnett Municipalities
Within city limits, recycling availability differs. If you need to recycle materials that aren't accepted in your curbside collection program, or if you don't have access to curbside collection, explore our recycling directory to find local drop-off sites to take your recyclables.

Save
Save
Save
Save
Save
Save
Save
Save
Save
Save
Save
Save