Gwinnett Recycles citizen volunteers recently took a guided tour of Gwinnett's best kept recycling secret: The Snellville Recycling Center. Located at 2531 Marigold Road, off of Lenora Church Road next to Briscoe Park, the center accepts a wide variety of items for recycling from both Snellville and non-Snellville residents. In a county that currently has no other recycling drop-off center, a visit here feels exciting and special. Wherever you are in Gwinnett, it's worth the drive.
Items accepted at the Snellville Recycling Center include:
Glass bottles and jars (clear, green, and brown; caps, lids, and corks removed)

Aluminum cans

#1 & #2 plastic bottles and jugs

Newspaper

Magazines

Books

Cardboard

Pasteboard

Computer/office paper (including shredded paper)

Scrap metal (all types)

Steel food cans

Electronics

Car batteries
The standout items on this list, which can otherwise be challenging to recycle in and around Gwinnett, are glass bottles and jars and electronics of almost all kinds (most anything powered by a battery or a plug). (One exception is old rear projection TVs, which have to be disposed of in bulk trash due to the expense of recycling them.) Though not listed on their website, we also found that the center was accepting household batteries of all kinds, as well as usable housewares, furniture, and sporting goods for donation. Large appliances, such as washers, dryers, refrigerators, dehumidifiers, air conditioning units, and freezers are accepted for a small fee. (As of September 2020, the fee for freon-containing appliances is $15 for City of Snellville residents and $25 for non-residents.) Broken lawn mowers, bicycles, and certain appliances are set out at the front of the center for interested parties to take and repair.
Scrap metal accepted includes non-ferrous metals, such as brass, copper, nickel, and aluminum (including window screens and storm doors), as well as ferrous metals such as steel, stainless steel, and cast iron. Aerosol cans are not accepted. Payments are not offered for scrap metal, so if you have a lot to recycle, you may want to take your metal to one of the many metal recyclers in Gwinnett County for a rebate.
So, what services at the center are limited to residents of the City of Snellville? Residential junk, such as broken furniture and old mattresses, is accepted for disposal only from city residents, who are limited to one truckload to the recycling center per day at no cost. Residents may also drop off one truckload of yard trimmings per day. However, anyone may pick up mulched yard waste for free if they shovel it themselves, or for a small fee if they would like the assistance of the center's backhoe!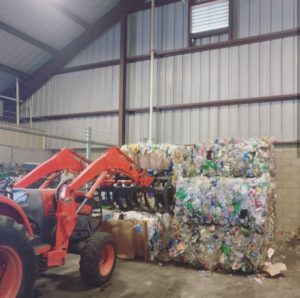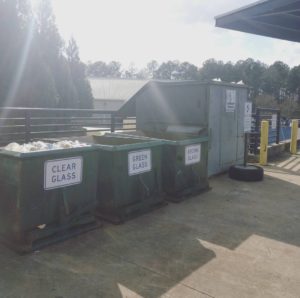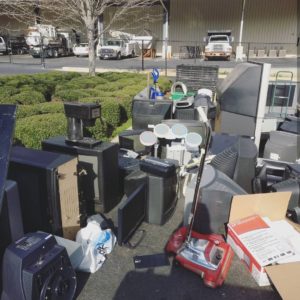 If you need to recycle plastics #3-7, aerosol cans, chemicals, paint, bulbs, or tires, the Snellville Recycling Center can't help. For just about anything else, the center is a wonderful option generously provided by the City of Snellville. While you're there, check out the guardhouse — made of recycled materials — and say hello to Dale, our friendly tour guide.
Want to be part of the next Gwinnett Recycles facility tour? Subscribe to our newsletter for updates!
About Gwinnett Recycles: Gwinnett Recycles is focused on helping Gwinnett County, the second-largest county in the state of Georgia, reduce, reuse, compost, and recycle more material and keep waste out of landfills and the environment. Gwinnett Recycles is run 100% independently by citizen volunteers. To connect with us and support our efforts, follow us on Facebook and Instagram, subscribe to our newsletter, and consider volunteering with us!