In case you haven't heard, we're on a mission. We're hosting a litter cleanup and plastic brand audit in every city in Gwinnett County by Earth Day — April 22, 2021.
In many smaller counties, that might not sound like much. But for Gwinnett, with 437 square miles, one million people, and 16 incorporated cities, it's an ambitious undertaking!
The reason we're doing it? Our community is facing a litter crisis. Trash is blighting roads, highways, parking lots, and parks; clogging storm drains; and entering rivers and streams that lead to lakes, the Atlantic Ocean, and the Gulf of Mexico. However a piece of litter gets there — from intentional littering or blowing out of waste containers or collection trucks — it becomes an issue as soon as it enters the environment. And all this litter isn't going away unless we do something about it.
Highlighting (Not Hiding) the Evidence with Brand Audits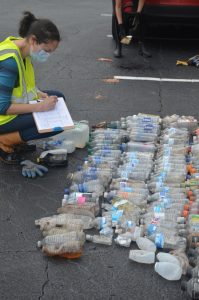 We're not just picking up litter. We're becoming citizen scientists and collecting information about this debris, because the litter crisis isn't just in Gwinnett — it's everywhere. And to defeat the beast, we need to equip ourselves with data.
The most problematic kind of litter in almost every respect, including ubiquity, non-recyclability, toxicity, degradation pattern, and ultimate harm to the environment, is plastic.
Inspired by the nonprofit Break Free From Plastic and its annual global Brand Audit Report, after every cleanup we are logging data about all the pieces of plastic trash we pick up. This includes the type of item (a bottled drink? A snack wrapper? A cigarette pack?), the brand name and parent company, the product category, the type of plastic, the complexity of the packaging, and the quantity. So far we've logged more than 2,000 pieces of plastic litter, and clear trends are emerging.
Some of the data our volunteers have collected so far was included in Break Free From Plastic's 2020 Brand Audit Report. We were proud to contribute to this global effort, but we're not stopping there. On Earth Day, we will publish a brand audit report just for Gwinnett County, with findings and analysis from our 16 cleanups. The report will be released to residents, the media, local and state policymakers, nonprofits, and the brand owners themselves. Because litter isn't just the people's problem or the consumer's fault, like these brands have spent billions to make us believe. When most plastic isn't even recycled, and much of it is irresponsibly used in single-use products that will be used for a few minutes and then discarded, it's no wonder we have the litter problems that we do — and that every community does.
Join Us in Taking Action
Since 2017, the top 10 categories of trash collected in the beach cleanups has been made of one material: Plastic. By 2050, the ocean is expected to contain more plastic than fish. The vast majority of that plastic won't be the life-saving kind from hospital tubes and seatbelts. It'll be plastic that served no important or lasting purpose at all, could not be recycled into something new at the end of its life, and will now impact all generations to come. It's angering. It's unacceptable. And we won't stand for it.
Take action — help us with our mission by volunteering at a cleanup and brand audit. The more volunteers we have, the more trash we can remove and the more of it we can log. We're scheduling multiple cleanups monthly leading up to Earth Day, so check our calendar and show up. Together we CAN make a difference. See you out there!
Cover photo from a recent cleanup in Rest Haven, population 64 — Gwinnett's tiniest city. Like everywhere, it still has plenty of litter.
About Gwinnett Recycles: Gwinnett Recycles is focused on helping Gwinnett County, the second-largest county in the state of Georgia, reduce, reuse, compost, and recycle more material and keep waste out of landfills and the environment. Gwinnett Recycles is run 100% independently by citizen volunteers. To connect with us and support our efforts, follow us on Facebook and Instagram, subscribe to our newsletter, and consider volunteering with us!