Editor's note: Natasha Dyer, Senior Recycling Program Coordinator for the City of Atlanta in the Mayor's Office of Resilience, is a friend of Gwinnett Recycles and a sustainability warrior. Read about her initiatives below, and then check out her interview on the podcast The Impact Report and watch a video of a food waste audit she conducted in March 2021 at the Atlanta airport! We loved helping with the audit and enjoy supporting her important work.
Wasted Food, By the Numbers
Ready to hear something nauseating?
Forty percent of the food that we send to landfills today is edible.
Hope that didn't just make you lose your lunch.
Here's the really amazing thing: If all that wasted edible food were saved instead of landfilled, we could feed every hungry person four times over.
I work for the City of Atlanta. In 2018, the City—which is one of the country's 100 Resilient Cities—was awarded a grant from the Rockefeller Foundation to work with the Natural Resources Defense Council (NRDC) to map out and calculate the City's wasted food by sector. The primary goal was to determine how much of that food could be safely rescued to feed people in our communities who are experiencing food insecurity. Food insecure people are those who lack reliable access to a sufficient quantity of affordable, nutritious food. It's a bigger problem than you might realize—in 2019, more than one out of ten Americans experienced food insecurity.
As someone who had worked in the waste and recycling industry for several years, my instant reaction to food waste was just about keeping it out of landfills—always "composting, do more composting." But now that we were going to have to focus on saving good food and redistributing it to people, I knew this was going to be the first time in my career where I would be looking at and working on waste minimization through the correct hierarchy of reduce, reuse, and THEN recycle (compost)…and I was excited.
After six months, the study was completed, and the results were in: The City of Atlanta (made up of parts of the counties of Fulton and DeKalb) sends 125,000 tons of food to landfill each year. And just like the other cities that the NRDC had done their study with by that time (Denver, Nashville, and New York), the biggest contributor of wasted food in Atlanta is households, at 36%.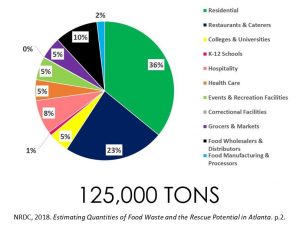 Food Insecurity, By the Numbers
Compared with the national average of 12.9%, 17.8% of Atlanta's residents (i.e. seniors, children, your neighbors in between jobs) are food insecure, equating to an annual shortfall of 14 million meals.
Knowing that 40% of all wasted food is edible, and learning from NRDC's report that we could eradicate this shortfall if we improved rescuing edible food in our city by just 10%, a big opportunity was seen in creating programs that increase food access by rescuing edible surplus food from the commercial sector. Unlike households and homes, restaurants and grocery stores have packaged food and food storage practices that make the food readily accessible to collect and bring to food recovery and redistribution agencies.
To begin this work, in 2019, we created a three-month long wasted food challenge, where we worked with six restaurants in the Atlanta airport, rescuing 21,000 meals that was then shared with food insecure residents. With COVID-19 derailing 2020 planning of rescuing and donating food to seniors and after-school programs in now temporarily closed municipal buildings, 2021 finds us being a part of the NRDC's Southeast Regional Initiative, where we, along with four other cities, are researching solutions via policy, more business challenges and engaging our health inspectors to get the word out about food donation. To support and enhance this work, the City of Atlanta is currently creating a local working group of external partners made up of food businesses and associations, universities and non-profits, and governmental agencies and local urban ag professionals, helping us to develop our multi-year workplan that will address food waste and drive progress here in Atlanta.
The Environmental Impact of Wasted Food, By the Numbers
Not only does wasting food not make sense when we have so many hungry people in our own communities, it doesn't make environmental sense. It has been shown that growing food and transporting it to stores, only for it to be purchased, brought home, never eaten, and then discarded is responsible for 21% of the nation's annual water usage and 10% of its energy usage. It also hits our wallets. Each year, an average family of four wastes $1,500 on food they never touch before throwing away.
Food and other organic waste decomposing in landfills also adds up to be the third largest manmade cause of methane gas release into the atmosphere. Thus, the mismanagement of wasted food also accelerates climate change.
What You Can Do to Reduce Food Waste
So, what can you do from home to reduce wasted food? Glad you asked! Solving this problem will take all of us doing our part.
Check the fridge and pantry first.

Use up what's already there before buying more.

Pre-plan and make a shopping list.

Don't buy food without knowing what you have at home. It's probably also a good idea not to shop while hungry. *smile*

Having a party? Serve the right amount of food. Know how much food to prepare with the Guest-imator tool from NRDC's "Save the Food" campaign.
Don't over-order.

When ordering out, make sure your eyes aren't bigger than your stomach.

Eat your leftovers.

Use home-cooked meals and takeout as next-day lunches, or freeze them straight away.

Store foods properly. Some fruits and vegetables shouldn't be stored together, as they can offgas and speed up decomposition of others.
Compost food scraps. Consider starting a backyard compost or joining one at a community garden to minimize the environmental impact of food disposal when you do need to discard it.
Volunteer.

If you live in the greater Atlanta area, contact the organization

Second Helpings

to inquire about helping them with their food recovery and redistribution efforts or sign up with

Goodr

to volunteer at one of their pop-up grocery shops that happen around town, including in Gwinnett!
This year and beyond, let's feed people—not landfills.
About Gwinnett Recycles: Gwinnett Recycles is focused on helping Gwinnett County, the second-largest county in the state of Georgia, reduce, reuse, compost, and recycle more material and keep waste out of landfills and the environment. Gwinnett Recycles is run 100% independently by citizen volunteers. To connect with us and support our efforts, follow us on Facebook and Instagram, subscribe to our newsletter, and consider volunteering with us!