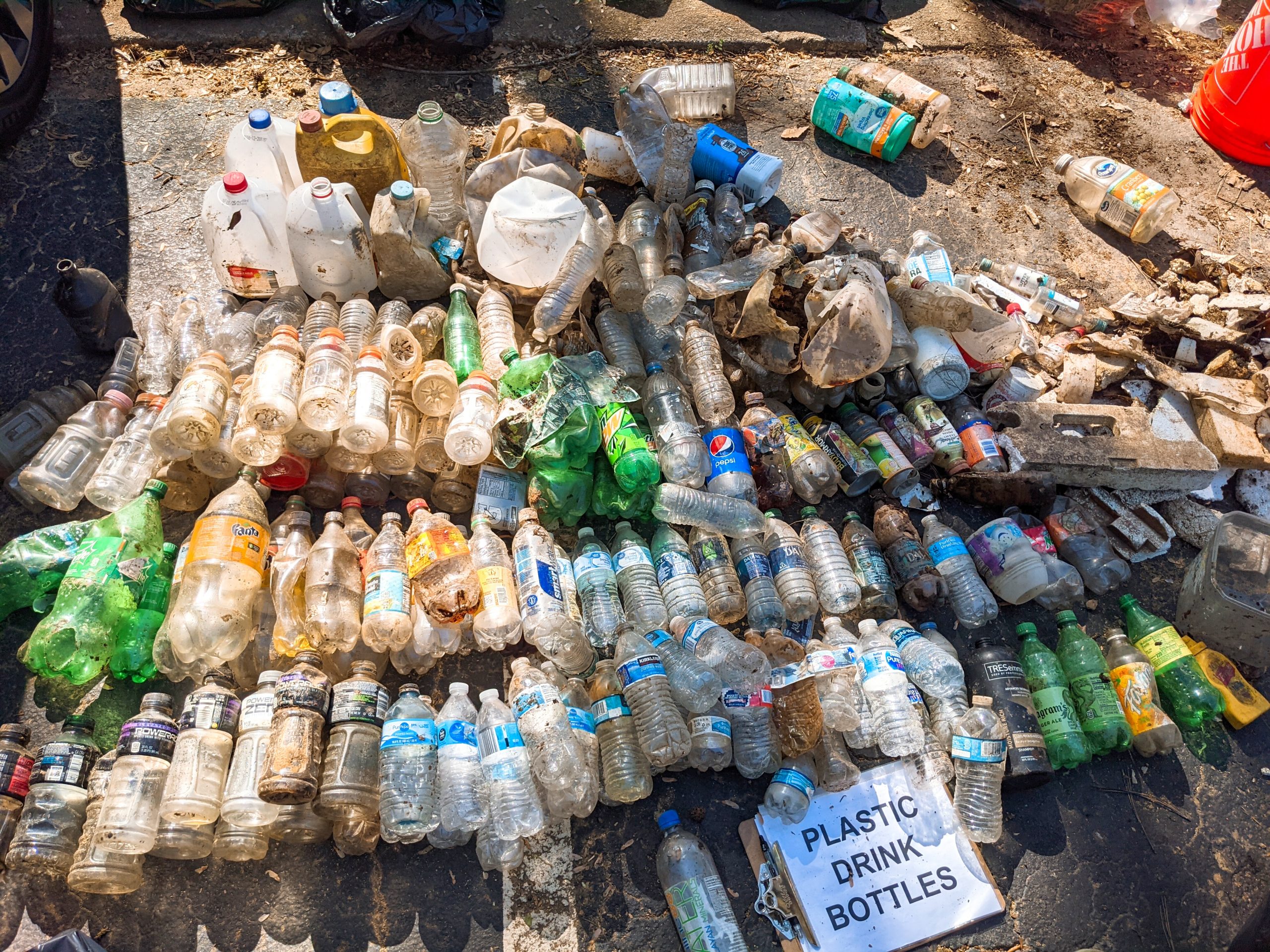 Litter. It's everywhere. It's out where you can see it (in parking lots, on roadsides) and in many places you can't — from storm drains to retention ponds to woods, wetlands, creeks, and rivers. Even as people have become more environmentally aware and less likely to litter, it seems like the amount of trash on the ground only grows and grows.
Just about anything that's ever been made can be found littered, but one form of litter stands out as the most disturbing. It's toxic to humans and to the planet as it's manufactured. It's overused and makes up the majority of litter. It's filling up our landfills. It's hard to recycle. When it ends up in nature, it never breaks down; it only breaks apart into smaller and smaller bits. It might be the only form of litter that we're eating — 2,000 pieces of each week, scientists estimate, equal to the weight of a credit card.
That litter is plastic.
The amount of plastic the world makes annually has exploded in the span of a single generation, from almost zero in 1940 to 400 million tons today. Every American is now using more than 300 pounds of plastic per year, and the United States is the number-one generator of plastic waste in the world. The #1 application of plastic in our society? It's not lightweight automotive parts, construction products, or life-saving medical equipment, but packaging. Most plastic packaging is single-use — another word for disposable.
With so much plastic and so much disposability, is it any wonder we struggle with so much litter?
The global zero waste advocacy organization GAIA sums it up nicely: "Single-use disposable plastic is the greatest obstacle to sound waste and resource management. Inadequate waste management systems and human negligence are often cited as the main contributors to plastic waste leakage into terrestrial and marine environments—but waste and brand audit data in many parts of the world are helping reveal that the unfettered production of disposable plastic is the actual problem. As long as the mass production of throwaway plastics continues unabated, cities and countries will find it harder and harder to cope. Put simply, disposable plastic is a pollution problem, and the only way to prevent it is to stop it at source." The evidence is in: Single-use plastic is a senseless waste and a threat to clean and healthy communities.
We're taking action on plastic waste.
To learn about this issue in our community, Gwinnett Recycles set a goal to host a litter cleanup and plastic litter audit in every Gwinnett city by Earth Day 2021. We achieved that goal with 125 volunteers and 17 cleanups, collecting 5.34 tons of trash and logging 10,042 pieces of plastic litter. We found out the companies whose waste is littering our community. We determined the top 10 kinds of plastic that end up in the environment the most often (all are single-use). Along the way, we made other important discoveries:
– Our community is facing a plastic pollution crisis.
– The vast majority of litter is single-use plastic.
– Most plastic is from food and drinks.
– Recycling isn't the solution for plastic waste.
We put these discoveries and more into a report. On the Ground in Gwinnett: Plastic Litter Report is the product of 700+ volunteer hours, a lot of passion, and zero external funding or influence. The report is the unvarnished truth about litter, as we can now clearly see it from our vantage point on top of a 5.34-ton mountain of trash.
When you read it, be prepared for feelings of shock, sadness, and anger — we felt all those emotions too as we wrote it. But by ending with clear Take Action Guides for companies, government leaders, and individuals, the report gives us each the tools we need to make a difference and win a better world in our lifetime.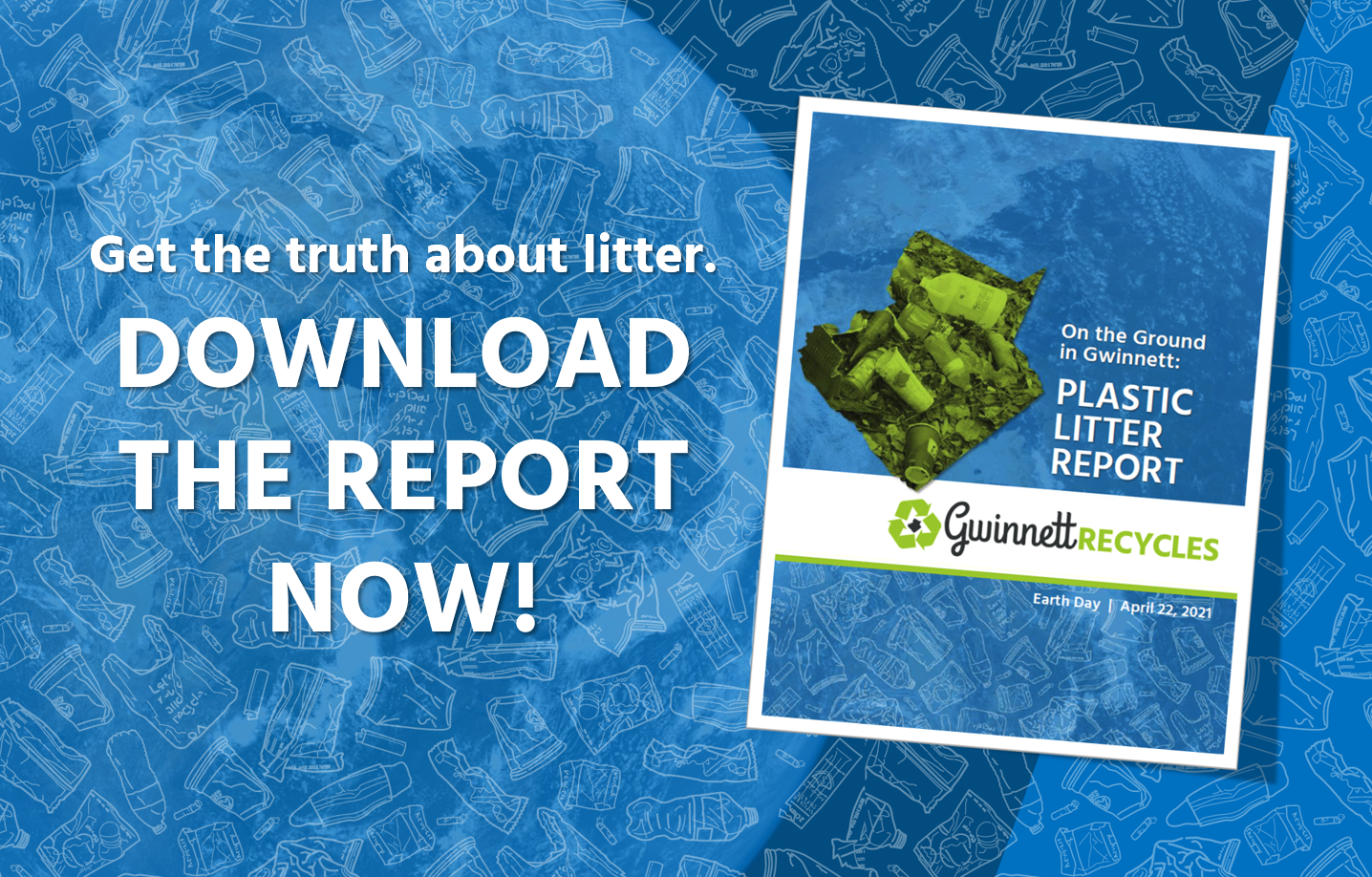 Watch our report launch town hall
We brought together a group of experts — a global brand audit organizer from Break Free From Plastic, the executive director of state policy organization Environment Georgia, and a watershed protection specialist with Chattahoochee Riverkeeper — for an engaging discussion on the report findings on launch day, Earth Day 2021.
Share the report!
Help us spread the word far and wide by sharing the report with friends and family and raising awareness among your networks using our pre-written social media posts!
POSTS FOR FACEBOOK:
@Gwinnett Recycles did an in-depth study on litter in our community, with 125 volunteers completing a cleanup and plastic litter audit in every city in Gwinnett! What they learned after collecting 5.34 tons of trash and analyzing 10,042 pieces of plastic litter is amazing. Their report shows the top 10 kinds of plastic that end up in the environment the most often, the brands producing all that plastic, and what we can do to stop plastic pollution and help clean up Gwinnett. Download the report: https://tinyurl.com/litterreport #GwinnettRecyclesLitterReport
Hey @PepsiCo @The Coca-Cola Company @Kroger @Walmart @McDonald's @QuikTrip @Nestlé @Chick-fil-A @Altria News @Mars, Incorporated: According to local brand audits, you're the top 10 companies that are trashing my community, Gwinnett County, Georgia, with plastic litter. Volunteers found your litter on the side of the road and in woods, wetlands, creeks, and rivers. They picked up more of your trash than any other company's! What are you doing to take accountability, turn off the tap on single-use plastic, and invest REAL money in cleanup? https://tinyurl.com/litterreport #GwinnettRecyclesLitterReport
POSTS FOR INSTAGRAM:
@Gwinnett Recycles did an in-depth study on litter in our community, with 125 volunteers completing a cleanup and plastic litter audit in every city in Gwinnett! What they learned after collecting 5.34 tons of trash and analyzing 10,042 pieces of plastic litter is amazing. Their report shows the top 10 kinds of plastic that end up in the environment the most often, the brands producing all that plastic, and what we can do to stop plastic pollution and help clean up Gwinnett. Download the report: https://tinyurl.com/litterreport #GwinnettRecyclesLitterReport #EarthDay #volunteer #litter #brandaudit #brandaudit2021 #breakfreefromplastic #plastic #plasticpollution #singleuseplastic #plasticwaste #waste #pollution #health #publichealth #reuserevolution #zerowaste
Hey @PepsiCo @TheCocaColaCo @Kroger @Walmart @McDonalds @QuikTrip @Nestlé @ChickfilA @AltriaGroupInc @MarsGlobal: According to local brand audits, you're the top 10 companies that are trashing my community, Gwinnett County, Georgia, with plastic litter. Volunteers found your litter on the side of the road and in woods, wetlands, creeks, and rivers. They picked up more of your trash than any other company's! What are you doing to take accountability, turn off the tap on single-use plastic, and invest REAL money in cleanup? https://tinyurl.com/litterreport #GwinnettRecyclesLitterReport #EarthDay #volunteer #litter #plastic #plasticpollution #pepsi #coke #kroger #walmart #mcdonalds #quiktrip #nestle #chickfila #altria #marscandy #toppolluters #polluterpays #brandaudit #brandaudit2021 #breakfreefromplastic #singleuseplastic #plasticwaste #waste #pollution #health #publichealth #reuserevolution #zerowaste
POSTS FOR TWITTER:
Volunteers in Gwinnett County, GA did brand audits inspired by @brkfreeplastic and found out the truth about plastic litter. Download the report: https://tinyurl.com/litterreport #GwinnettRecyclesLitterAudit #brandaudit2021
Hey @PepsiCo @CocaColaCo @Kroger @Walmart @McDonalds @QuikTrip @Nestle @ChickfilA @AltriaNews @MarsGlobal: According to local brand audits, you're the top 10 companies that are trashing my community, Gwinnett County, GA, with plastic litter. https://tinyurl.com/litterreport
POST FOR NEXTDOOR:
Subject: The truth about plastic litter! 
If you're bothered by litter in our community, you need to read this report! Gwinnett Recycles did an in-depth study on litter in our community, with 125 volunteers completing a cleanup and plastic litter audit in every city in Gwinnett. What they learned after collecting 5.34 tons of trash and analyzing 10,042 pieces of plastic litter is amazing. Their report shows the top 10 kinds of plastic that end up in the environment the most often, the brands producing all that plastic, and what we can do to stop plastic pollution and help clean up Gwinnett. Download the report: https://tinyurl.com/litterreport