Need some good news to end this rough year on a positive note? Look no further.
At this afternoon's Board of Commissioners meeting, county leaders gave their approval for the county to accept a grant of $100,000 from industry nonprofit The Recycling Partnership, and to match these funds! The money will be used next year to educate residents in unincorporated Gwinnett about which materials can and cannot go in curbside recycling bins and facilitate the switch from bins to carts to capture more material.
Just as exciting, for the many of you out there who are still frustrated that glass was removed from curbside recycling, is that Gwinnett County Government, Gwinnett Clean & Beautiful, and the Partnership are also going to explore additional funding for a glass recycling drop-off! All of this is great progress, and it's thanks to citizens like you who keep these issues on your radar, talk to friends and neighbors about them, contact your commissioners, and make recycling a personal priority.
Here is the grant award letter from The Recycling Partnership, available on p. 473 of the Board of Commissioners meeting packet: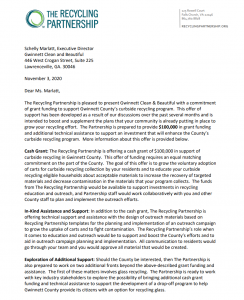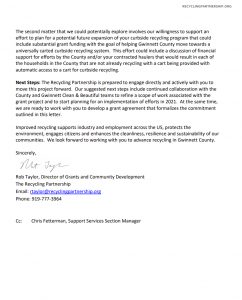 For a while now we've been calling on county leaders and staff to prioritize recycling education to teach residents how to recycle right. With the list of materials accepted curbside changing several times in the past few years, and the significant problems that are caused downstream when the wrong items end up in the bin — not to mention the addition this year of a recycling processing fee for Gwinnettians in unincorporated Gwinnett — investment in education is a must. That's why we created Gwinnett Recycles as citizen volunteers, filling in the gap and serving our community with our comprehensive directory, blog, and helpful recycling tips on social media. But Gwinnett is a huge county, and a project of this magnitude needs a wider reach and big dollars. The grant is a great starting point.
Join us at our end-of-year Zoom hangout and volunteer appreciation party on December 30 to celebrate this and other wins!
About Gwinnett Recycles: Gwinnett Recycles is focused on helping Gwinnett County, the second-largest county in the state of Georgia, reduce, reuse, compost, and recycle more material and keep waste out of landfills and the environment. Gwinnett Recycles is run 100% independently by citizen volunteers. To connect with us and support our efforts, follow us on Facebook and Instagram, subscribe to our newsletter, and consider volunteering with us!