I got married recently and took advantage of this once-in-a-lifetime opportunity to give myself a new challenge: Hosting a zero waste wedding! If State Farm Arena could achieve the first-ever zero waste NBA All-Star Game earlier this year with 1,500 fans in attendance (plus a zero waste playoff game with 16,458 fans), I figured there was no reason our 110-guest wedding couldn't or shouldn't strive to send little or no waste to local landfills. It turns out that hosting a zero waste wedding, or making any type of large event zero waste, isn't as difficult as you might think. It just takes a little planning and foresight and some help from friends — efforts that all pay off when, at the end of the event, there's almost no garbage to be found.
Here's a step-by-step guide to hosting a zero waste wedding or other large event.
Take stock of potential sources of waste.
As you think ahead to your event, what are the vectors through which solid waste will be generated? For example, will you be serving food and drinks? Providing materials for meetings, games, or activities? If you take no steps to intervene, what are all the types of things that will end up in the trash at your event? Make a detailed list!
Our wedding reception was held at Coolray Field, home of the Gwinnett Stripers minor league baseball team in Lawrenceville, in a suite during a game. Our primary source of waste was serving dinner and drinks, and we started thinking early on about how to proactively manage leftover food, as well as used napkins, plates, cups, and utensils. We also considered wedding decorations and any items that guests would bring into our suite, such as bottled drinks and paper ticket stubs.
Strategize to stop waste before it's ever generated.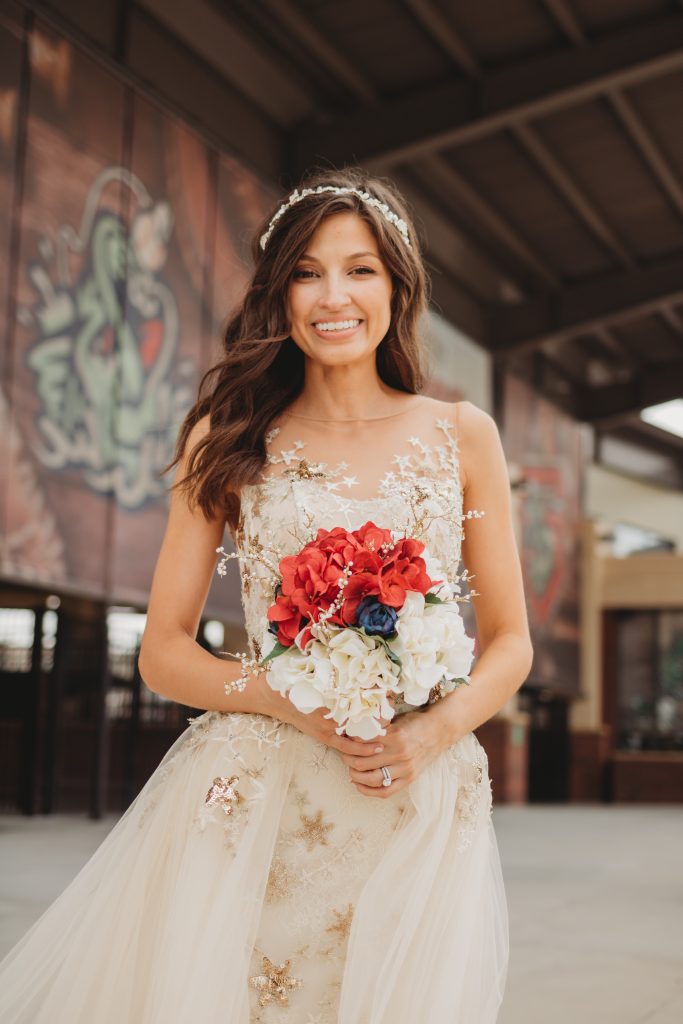 With a little pre-planning, there are usually ways to prevent certain kinds of trash from ever being created. Here are some ways that we avoided creating waste:
Invitations: Instead of paper wedding invitations, which can be non-recyclable due to material like foil and vellum, we sent e-vites. The premium e-vite platform Greenvelope allowed us to create digital invitations that played our song in the background and showed a realistic animation of our card emerging from a stamped and addressed envelope. Everything from the card to the envelope material to the lining and postage stamp are fully customizable, logistical details can be provided within the invite itself, and RSVPs are easy to track.
Clothing: Wedding dresses are notoriously something that women wear once in their life and then keep in the closet forever. Instead, I borrowed my dress and headpiece from Laine London, a Chamblee-based wedding dress rental shop. I was able to support a small business, save a lot of money, and return the dress and accessory for many women after me to enjoy and make memories in! A great clothing rental option for other special occasion events is Rent the Runway.
Decorations and favors: We kept décor to a minimum, relying on a few centerpieces (all elements reusable post-event) and re-configurable letterboard signage. Instead of real flowers that are shipped from far-flung locales on refrigerated trucks and only live for a few days, we used a limited amount of silk flowers that we plan to reuse for years. We didn't provide wedding favors, but if we did, we would have tried to avoid the use of decorative packaging, ribbons, string, or stickers that would soon end up in the trash.
Food serviceware: After learning that our venue only provides disposable cups, plates, and utensils, we ordered 100% recycled and reusable cups, plates, and utensils. Our venue's catering company normally provides bottled water, but they were able to substitute water dispensers instead. We offered a keg of domestic beer instead of individual aluminum cans. We bought inexpensive reusable metal straws instead of single-use plastic or paper straws.

Food: We ordered less food to try to avoid food waste. While we ultimately had to order a bit more on the fly to satisfy appetites, I'm glad we erred on the side of less waste.
While recycling and composting will be part of your event's zero waste strategy, remember that reducing and reusing — the first two R's in the classic Reduce, Reuse, Recycle series — are even more sustainable measures. Always start with these first.
Plan and arrange for proper waste sorting.
A zero waste event requires thoughtful sorting of any unavoidable waste to prevent as much material as possible from ending up in landfills. In logistical emails leading up to our wedding, we gave guests a heads-up that we were aiming to host a zero waste event and would like their help keeping things out of the trash. We borrowed a large metal wash tub to collect dirty cups, plates, utensils, and straws and arranged the only waste cans in our venue together in a line (it's very important to keep all waste cans together — not have a recycling bin on one end of the room and trash on another end). We stuck on simple homemade signage designating each can for compost, recycling, or landfill (trash) and listing what goes where.
Emulating State Farm Arena's best-practice approach of recruiting volunteers to monitor bins and help attendees sort their waste, we enlisted the help of a Gwinnett Recycles all-star, Heather Hilyer Gray, to staff the zero waste station at our wedding. Correctly differentiating reusables from compost from recyclables from trash can be difficult and is an unfamiliar habit to many, so Heather provided lots of guidance and instruction to ensure that everything went to the proper place. Having a zero waste ambassador on duty at your event might seem over-the-top, but it's a smart thing to do to educate guests and avoid cross-contamination of the streams.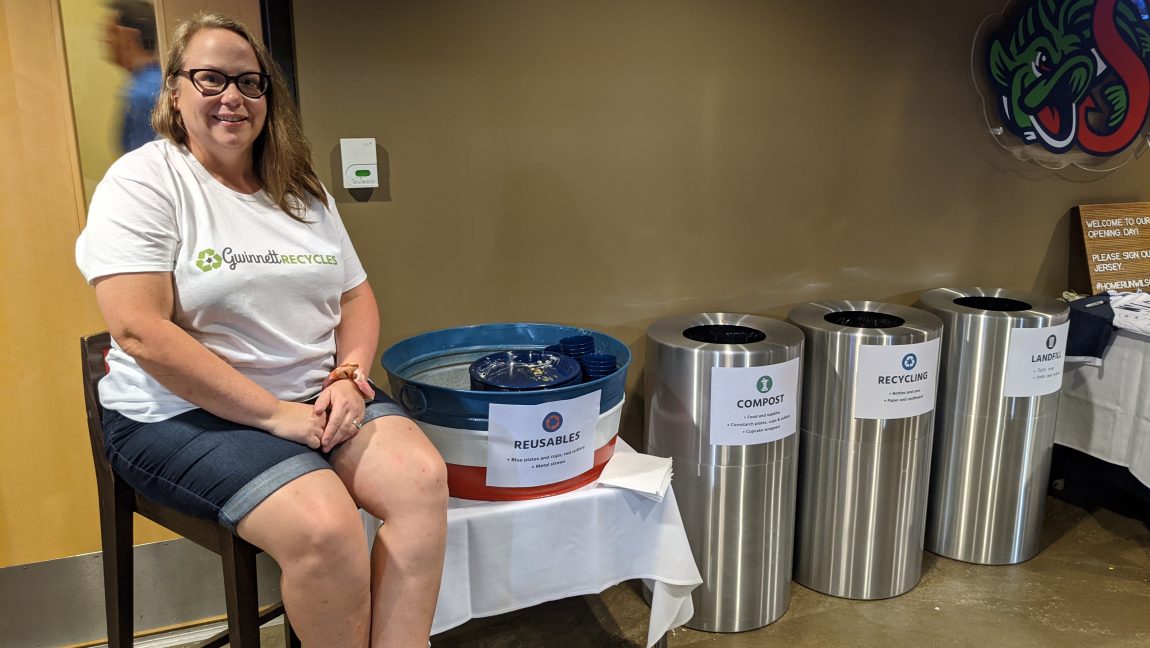 At the end of the four-hour wedding reception, we had a tub of reusables to take home and wash, three bags of food waste and other compostables* to take to the Center for Hard to Recycle Materials (CHaRM) in Atlanta, two bags of single-stream recycling (mainly paper and beer and soda cans) to recycle curbside, one bag of glass (wine bottles from the bar) to recycle at CHaRM or the Snellville Recycling Center, and one small bag of garbage (mostly non-recyclable case wrap and plastic-lined cardboard cake boxes). "Zero waste" is often defined as keeping at least 90% of generated waste out of landfills, incinerators, and the environment, and we estimate we hit about 95%. We consider that a zero waste WIN!
*A note on compost: CHaRM collects compostable material to be processed by Compost Now, an industrial compost company. Since Compost Now has a full-scale industrial composting facility unlike the small backyard compost setup that you and I have at home, they are able to accept not just fruit and vegetable scraps and coffee grounds but also meat, bones, fish products, cooked foods, soiled paper food packaging, items labeled BPI Certified Compostable or ASTM D6400 or D6868 (trusted certification standards that reliably indicate that something is compostable in an industrial composting facility), and more. In addition to food waste, cupcake wrappers, and 100% recycled napkins, we also relied on the compost stream to divert World Centric-brand certified compostable cups, plates, and utensils that we purchased from Sprouts as a backup to our limited supply of reusable cups, plates, and utensils. Compost Now is a great way to keep food waste and certain food serviceware out of the landfill, with no need to do dishes. It does cost a bit of money: At CHaRM, you can dispose of compostables for the price of $5 for every four gallons.
Dispose of material properly and record lessons learned.
We arranged ahead with a friend who lives near CHaRM to take the compost, several Gwinnett Recycles members took the glass and curbside recyclables, and family members kindly washed the dishes from our event as we headed off to our honeymoon. Be sure to make arrangements in advance if someone other than you will need to take any dirty dishes, compost, recycling, or garbage, and thank everyone involved for helping you pull off a zero waste event! Since zero waste is a journey, record lessons learned to help you reduce waste even more at your next event. Spread the word to others, like I'm doing here, to inspire more people to go zero waste!
Events are a chance to put your values on display, to tell the world (and remind yourself) what matters most to you. Post-pandemic, as large events and gatherings return, we should challenge ourselves to make zero waste a priority. Events are just one of the many areas of life where we shouldn't mindlessly revert to pre-pandemic normal, but build a new and improved normal that keeps environmental sustainability at the forefront. 
About Gwinnett Recycles: Gwinnett Recycles is focused on helping Gwinnett County, the second-largest county in the state of Georgia, reduce, reuse, compost, and recycle more material and keep waste out of landfills and the environment. Gwinnett Recycles is run 100% independently by citizen volunteers. To connect with us and support our efforts, follow us on Facebook and Instagram, subscribe to our newsletter, and consider volunteering with us!